I love giveaway and now I am taking part in
Oh Jhoy Summer Giveaway
, you can take part too.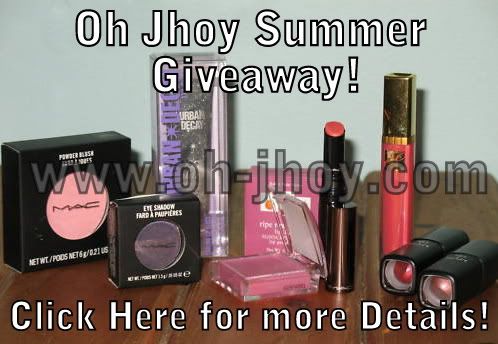 FIRST PRIZE WINNER RECEIVES
Includes:
1. Urban Decay Cooling Lip Gloss in UZI!!!
2. 2 NYX- Lipsticks in Kona Coffee and Hebe!!!
3. MAC Cosmetics Powder Blush in Well Dressed!!!
4. Bath and Body Works Ripe Red Currant Lip Balm with SPF!!!
5. MAC Cosmetics Eye Shadow in Thunder!!!
6. MAC Slimstick Lipstick in Gentle Simmer frost!!!
7. Estee Lauder Pure Color Lip Gloss in Nectar Light!!!
All products are new and not used!!!
Now for more detail just click on above link as giveaway ends on 10 July, 2010.
Good luck.